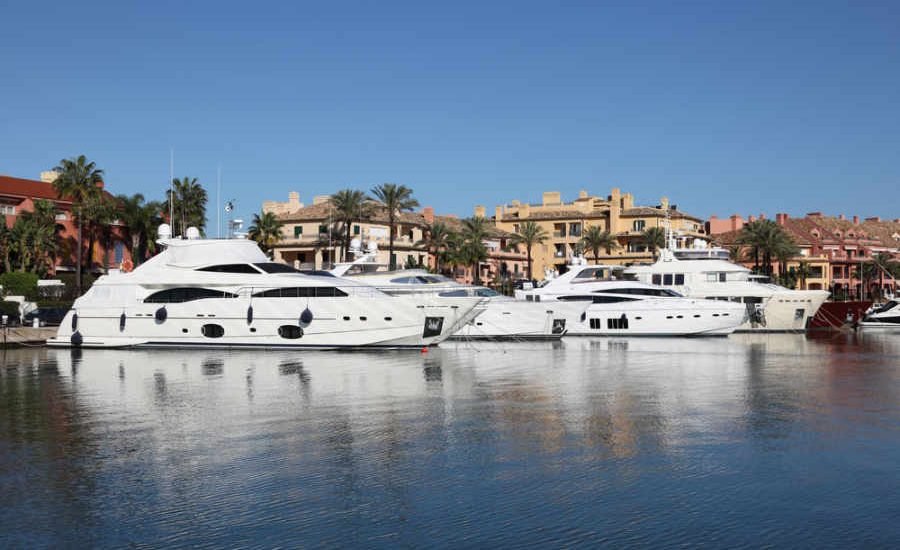 5 reasons why we live on the Costa del Sol
So why do we choose to live on the Costa del Sol?  Spain's Costa del Sol is one of the most popular regions where UK ex-pats buy homes.
5 top reasons why we live on the Costa del Sol
Weather
With over 325 average days of sunshine per year, there is nowhere in Europe quite like the Costa del Sol. Average winter temperatures are around 17ºC, rising to 20ºC in Spring and up to 35º C in July and August. Autumn temperatures average around 22ºC. If you like it really hot, take a trip to Seville where average summer temperatures top 40ºC.
Beaches
The beaches are what make this coastline so special. From the long sandy beaches in Malaga to the unspoilt Golden Beach just east of Marbella in Elviria, there are some incredible stretches of sand. If you are new to the area try the beach at Cabopino (a 10-minute drive east of Marbella). The beach is protected by a cove and is ideal for swimming.
Water sports can also be enjoyed at most beaches in Marbella, Fuengirola and Puerto Banus, including kite surfing, water skiing, paragliding, or even being towed along on an inflatable banana or doughnut. If you want to take a trip to Tarifa, the windy coast, west of Gibraltar, you can enjoy some incredible water sports. This is the home of the windsurfer, as it is the spot where the Atlantic meets the Mediterranean. The beaches are long and golden, and the legendary Tarifa winds make this a great spot for kite and windsurfing.
History and Culture
Contrary to rumour, the Costa del Sol is not just about sun, sand and sangria. There is much more to this incredible region than that. Take a trip up to Granada and visit the Moorish Palace of the Alhambra, or drive an hour inland from Marbella and marvel at the Ronda Gorge, the cobbled streets and the oldest bullring in Spain. The old town of Marbella is home to some fabulous, quaint shops, bars and restaurants nestled in its narrow streets and whitewashed houses.
Malaga Cathedral and Old Town are also worth a visit, and if you want to explore further, take a trip to Cordoba or Seville (both about a two-hour drive from Marbella), and immerse yourself in Spanish culture and traditions that date back years. Not everyone´s cup of tea, but undoubtedly a very Spanish thing to do, visit one of the big towns during festival time and watch the bullfight. Also, you can visit the spot of the Battle of Trafalgar, close to Algeciras, just west of Gibraltar.
Cheap flights
It used to cost almost double the current price to fly from London to Malaga, before the introduction of budget airlines. Major cities in northern Europe are now served by budget airlines, which makes Malaga Airport and the Costa del Sol much more accessible. Malaga to London, for example, costs around €70-€80 one way (depending on the time of year you wish to travel). Easyjet, Ryanair, BMI Baby and Jet2 all serve Malaga Airport from most cities in the UK. Flight time between Malaga and London is just 2 hours, which is another reason why the Costa del Sol is such a haven for Brits abroad.
If you are moving to or from the Costa del Sol and you are looking for long-term or short-term storage in Manilva, uStore-it can help. Customers experience great service.
Golf
Another reason why we live on the Costa del Sol is for the abundance of golf courses. Also known as the ´Costa del Golf´ the Costa del Sol is home to over 70 golf courses, with varying degrees of difficulty. Golf schools are also situated up and down the coast, and whether you are a seasoned professional or a beginner you can easily find a course to suit your requirements.
Golfers don´t have to be members of any particular club to play on the Costa del Sol. Top courses in the Marbella area include Los Naranjos, Aloha Golf, Las Brisas, (all at Nueva Andalucia), Santa Maria (Elviria) and Greenlife (Elviria). Cabopino, and Santa Clara Golf are just 6km east of Marbella town centre.
Self-Storage near the Gibraltar border.
Whether you live on the Costa del Sol as a resident in Spain or the other side of the border, storage in Manilva is just 15 minutes from the Gibraltar border. Customers can expect to receive friendly service and highly competitive rates. Businesses can also benefit from storage facilities on the Costa del Sol.
Franchise opportunities in Spain are another reason to think of moving. Tourists aren't the only ones making the most of the sun!